Termites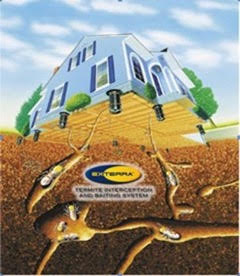 Termite Inspection & Prevention
At Knock Out Pest Control our technicians and inspectors are fully qualified and comprehensively insured for your peace of mind. A termite inspection is recommended at least annually by the Australian Standard AS3660 even if there is a termite protection system is in place. In some cases termite protection systems can be compromised, making the termites easer to detect, but won't stop them attacking your building.
We offer recommendations and preventive measures to reduce the risk of future termite attacks. In addition, our technicians are fully qualified to instal chemical barriers, baiting stations and always active baiting stations, which can last up to 5 years.
Our termite inspection service includes a comprehensive report and recommendations to prevent further or future attacks.
Termite Treatment
Termites cause hundreds of millions of dollars of damage annually, which is generally not covered by insurance. Termites are most active in warmers months and flying termites are usually signs of a nest. There are around 350 species of termites in Australia, and of these about 12 species damage sound timber.
After an inspection and identification of the species of termite, our technicians will recommend the best options to manage the problem. Knock Out Pest Control Illawarra use all current treatment solutions which involve pesticide barriers and baits specifically formulated for termites to eliminate the colony.
In soil pesticide barrier is applied into the soil under and around the foundations. Baits are ingested by termites and can eliminate the whole colony. Always active bait stations can last up to 5 years in the soil, when it is ingested by the termite, it can eliminate the colony.
Knock Out Pest Control Illawarra will recommend and instal the appropriate option according to your individual situation and budget.
Call us on 0490 391 414 to arrange an inspection.

© Copyright 2019 Knock Out Pest Control Illawarra || original website design:
|| web design by itDoesCompute
Sitemap